To delete an eCRF page you need to ensure the page isn't locked. If the page is locked you will need to have a query raised. Please click here for details.

First, navigate to the page you'd like to delete and click the Edit tab at the top left of the page. You'll see the 
 Delete button appear underneath.

Empty pages cannot be deleted.


Once you click the Delete button a Delete Page prompt will appear which will allow you to choose and state a reason for the deletion.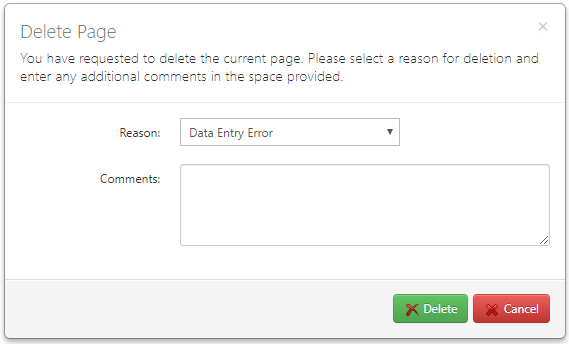 To confirm the deletion, click the Delete button. You can also cancel the deletion by clicking the Cancel button. If an electronic signature is NOT required, the page will be deleted and you will be returned to the now-empty page in data entry mode. If a signature IS required you'll need to supply one before you can delete the page.